Community Speedwatch (CSW) is a national initiative where active members of local communities join with the support of the Police to monitor speeds of vehicles using speed detection devices.
Vehicles exceeding the speed limit are referred to the Police with the aim of educating drivers to reduce their speeds. In cases where education is blatantly ignored and evidence of repeat or excessive offences is collated (even across county borders), enforcement and prosecution follow.
Volunteers receive appropriate training, and are supported by neighbourhood policing team (NPT) staff. The scheme aims to cater for the problem of real or perceived speed related offending, and through partnership with the community it is to be used in circumstances that are necessary, justifiable and proportionate in order to:

Reduce death and injury on the roads
Improve the quality of life for local communities
Reduce the speed of vehicles to the speed limit
Increase public awareness of inappropriate speed

Speedwatch activity is not about interfering with neighbours' behaviour; it is a proactive solution to improve the safety and quality of life for everyone in the community.
To join the village CSW team, please click here and follow the instructions below!
1. Click on:

Register

2. Click on:

Join Existing Group

3. Select:

Thames Valley

4. Select:

Buckinghamshire

5. Select:

Hughenden - Greater Hughenden
This will take you to the page to input all your contact details. Fill out the form, check the terms and conditions, then click Register Me and you're done!
When you log in the first time, you are required to finish a compulsory online training programme that takes you through the rules and procedures governing your participation in Community Speedwatch. Once successfully completed, you will be qualified to help out with Community Speedwatch initiatives in the village!
Great Kingshill in Words and Pictures: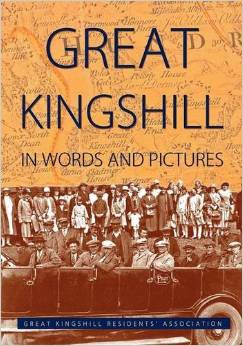 Available to purchase - £10 from This email address is being protected from spambots. You need JavaScript enabled to view it.
Delivered free within Great Kingshill.
A comprehensive, and updated, illustrated village history.
GKRA Events
GKRA organise a number of events throughout the year such as themed food and wine evenings, a quiz, fireworks party, carols and a family walk.
GKRA events will operate in compliance with any respective COVID restrictions at the time, and may be subject to cancellation at short notice in light of this.
Watch this space for upcoming events, or register for our email alerts so you'll be one of the first to know.
2022

Event

Friday 3rd June 2022

Jubilee Picnic on The Common

12-4pm
Please look out for posters around the village nearer the time for more details of each event, or check the GKRA Facebook Page here
We are actively seeking residents to come and join the Events team - if you would like to assist with planning an event, or have a great idea for a village activity, please email us: This email address is being protected from spambots. You need JavaScript enabled to view it.
Common Road
Great Kingshill
Buckinghamshire
HP15 6EZ

Secretary: 01494 714970

 
GKCC is a thriving and active club with 2 senior teams in the Mid Bucks League and numerous Junior teams from U9 - U17.
The Club is also an established ECB All Stars Cricket Centre welcoming boys and girls aged 5-8. New Members are always welcome!
Obituary - David Jarman
On 22 October 2019, David Jarman sadly passed away in hospital after a short illness. His passing occurred about a month after David and his wife Sheila's Golden Wedding celebration party, where he appeared to be on good form, having recovered from a fall earlier in the year.
David lived most of his married life in Great Kingshill and upon retirement worked hard within the village, advocating policies to create a better community for us all to enjoy. David's vision was clear - he wanted a vibrant community in which all members worked together and helped each other.
He was an active member of the Great Kingshill Residents' Association and Vice Chairman of the Neighbourhood Action Group where, with others, he started the Speed Watch scheme with the goal of reducing speeding through the Parish. The equipment, supplied by the Parish Council and maintained by volunteers, comprises several speed meters which are moved around the village. The Speed Watch initiative has been a success, bringing down the average speed of cars passing through the village.
David was also part of a team that encouraged Buckinghamshire County Council to introduce a pilot scheme to look after vulnerable people in the village. The Hughenden Street Association was formed, providing Street Representatives who volunteer to keep an eye on their vulnerable neighbours, helping them avoid scams and advising them on where to get help when needed.
David was a long-term Trustee of the Village Hall, believing that a good village hall was necessary for a strong community and that local organisations should be encouraged to make use of it for a reasonable fee. He wanted the hall to be a great community facility, urging that it be maintained to a high standard. One of his final ideas was to have meetings of the U3A there, once a fortnight, for people to meet and discuss a chosen subject.
David was a Parish Councillor, being ward member for Great Kingshill on Hughenden Parish Council for over 8 years. In addition to his many other active interests, he was a committee member of the Bucks branch of the Campaign to Protect Rural England (CPRE), where he actively fought against development in rural areas, especially around proposed development in the Oxford to Milton Keynes Corridor.
David will be greatly missed by his friends and colleagues in the village. He was a fountain of ideas for the community and an unwavering source of encouragement to get things done.
All our condolences are given to his wife, Sheila; their two daughters and family.
Written by David Davies and Terry Williams; edited by Barnaby Moore.