Community Speedwatch (CSW) is a national initiative where active members of local communities join with the support of the Police to monitor speeds of vehicles using speed detection devices.
Vehicles exceeding the speed limit are referred to the Police with the aim of educating drivers to reduce their speeds. In cases where education is blatantly ignored and evidence of repeat or excessive offences is collated (even across county borders), enforcement and prosecution follow.
Volunteers receive appropriate training, and are supported by neighbourhood policing team (NPT) staff. The scheme aims to cater for the problem of real or perceived speed related offending, and through partnership with the community it is to be used in circumstances that are necessary, justifiable and proportionate in order to:

Reduce death and injury on the roads
Improve the quality of life for local communities
Reduce the speed of vehicles to the speed limit
Increase public awareness of inappropriate speed

Speedwatch activity is not about interfering with neighbours' behaviour; it is a proactive solution to improve the safety and quality of life for everyone in the community.
To join the village CSW team, please click here and follow the instructions below!
1. Click on:

Register

2. Click on:

Join Existing Group

3. Select:

Thames Valley

4. Select:

Buckinghamshire

5. Select:

Hughenden - Greater Hughenden
This will take you to the page to input all your contact details. Fill out the form, check the terms and conditions, then click Register Me and you're done!
When you log in the first time, you are required to finish a compulsory online training programme that takes you through the rules and procedures governing your participation in Community Speedwatch. Once successfully completed, you will be qualified to help out with Community Speedwatch initiatives in the village!
Great Kingshill in Words and Pictures: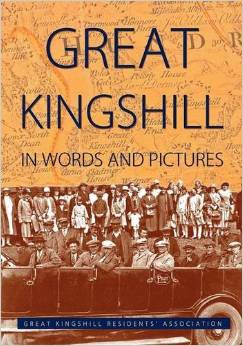 Available to purchase - £10 from This email address is being protected from spambots. You need JavaScript enabled to view it.
Delivered free within Great Kingshill.
A comprehensive, and updated, illustrated village history.
Village Hall AGM took place on Monday 23rd November 2020 at 7.30pm - online (via Zoom)
Click here for 2019 AGM Minutes
Click here for 2019-2020 Year End Accounts
VE Day 75 - Coffee Morning
Friday 8th May 2020 -
10am-12pm

POSTPONED UNTIL FURTHER NOTICE
The VE Day 75 Coffee Morning will be held in Great Kingshill Village Hall on Bank holiday Friday with refreshments, activities for children, and memorabilia to celebrate the occasion. We hope you will join us between 10 am and 12pm for coffee and yummy cakes. Look out for posters nearer the date with more information.
Please contact Chris (This email address is being protected from spambots. You need JavaScript enabled to view it.), Jill (07711 098409) or Carol (This email address is being protected from spambots. You need JavaScript enabled to view it.) with offers of help, donations of cakes or raffle prizes etc.
Monies raised will be split equally between the charities Help for Heroes and Great Kingshill Village Hall Kitchen Refurbishment.
Activities in the Village Hall
The Village Hall is used on a regular basis by a wide variety of local clubs and activity groups ranging from badminton, to pilates, to whist - you will find a list, together with contact details here.
Other Events
Chiltern Group of the Alpine Gardens Society
The group meet monthly on the 2nd Friday evening at 7.30pm Great Kingshill Village Hall.
For more information click here.
Visitors very welcome (£2). You do not have to be a member of the Alpine Garden Society to attend our meetings. Annual Subscription: £8
Contact: John Gill 01296 613577 Email This email address is being protected from spambots. You need JavaScript enabled to view it.
Common Road
Great Kingshill
Buckinghamshire
HP15 6EZ

Secretary: 01494 714970

 
GKCC is a thriving and active club with 2 senior teams in the Mid Bucks League and numerous Junior teams from U9 - U17.
The Club is also an established ECB All Stars Cricket Centre welcoming boys and girls aged 5-8. New Members are always welcome!
GKRA Events
GKRA organise a number of events throughout the year such as themed food and wine evenings, a quiz, fireworks party, carols and a family walk.
Watch this space for upcoming events, or register for our email alerts so you'll be one of the first to know.
2020

Event

July (date to be confirmed)

POSTPONED

Village Clean Up

We are still hoping that this will go ahead some time in July.

Date to be confirmed nearer the time.

Please meet at the car park opposite the common for the annual litter pick.

Monday 31 August

(Bank Holiday Monday)

POSTPONED

Family Fun Day on the Common

Look out for further details of this real village event!

Sunday 27 September

GKRA Annual General Meeting - 7.30pm

Online (video conference) meeting via Zoom. Login details will be provided here nearer the time.

Friday 6 November (TBC)

CANCELLED

Fireworks and Bonfire
Please look out for posters around the village nearer the time for more details of each event.
We are actively seeking residents to come and join the Events team - if you would like to assist with planning an event, or have a great idea for a village activity, please email Barnaby Moore: This email address is being protected from spambots. You need JavaScript enabled to view it.